Just 2 short days ago we held the Rainbow Baby Maternity Event in Louisville, KY. As you know from my previous post about this event, I had the notion to bless one local mommy that was pregnant with her rainbow baby. I just felt something pulling at me to reach out into the community to do something nice, and this was it. Once I put the call out for entries for this free session, I started reading all of the short backgrounds these women were giving when applying for a spot. I just couldn't pick ONE person anymore! I felt compelled to do as many as I could, so I settled on the symbolism of 7 mommies to go with the 7 colors of the rainbow.
I had the pleasure of meeting all 7 of the Rainbow Mommies and putting a face to each of their stories. We met at the brand new studio Light Box Louisville, which just finished renovations the night before our shoot! Once all of the introductions were out of the way, we had the hair and makeup artists from The Wave Styling Salon and Spa from Shepherdsville, KY to start working their magic!
The Wave's styling team made quick work of making each mommy to be feel beautiful after all of their pampering. Here are a few behind the scenes photos of the team in action! Photo credit goes to my assistant, Natasha Clark Photography!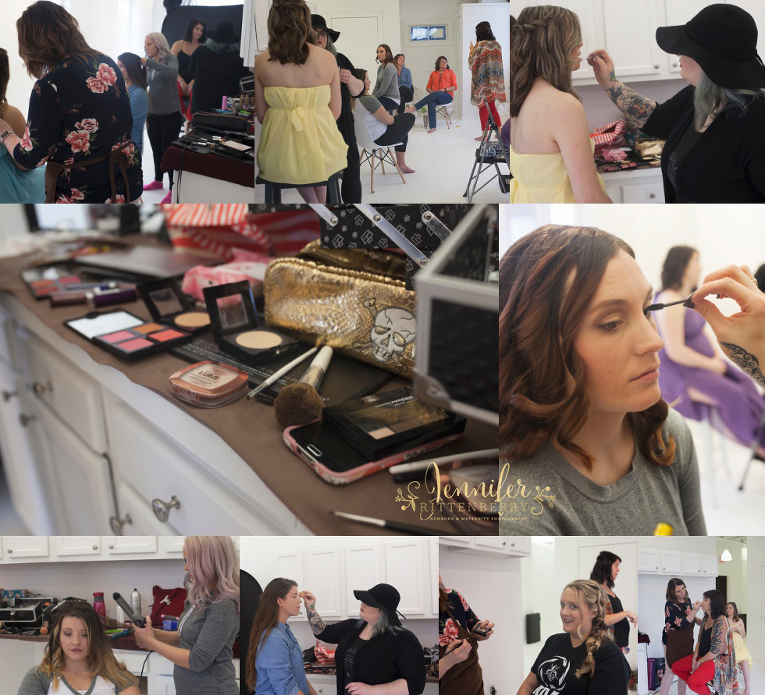 After everyone was camera ready, we handed out the swag bags! These awesome bags were full of newborn & mommy accessories that several generous vendors donated for this Rainbow Baby Maternity Event. Inside there was a custom onsie from Heart & Arrow Boutique with each mommy's due date on it and read "Rainbow appearing in April!" The owner, Amanda, was ecstatic to donate to this wonderful event because she is also a rainbow mommy, too! I love the versatility for these onsies; you can use them for a pregnancy announcement or even to have your newborn wear in their hospital photos.
There was also a newborn knot beanie with Rainbow stitched into the cap from KNOTS LLC. The owner, Megan, worked extra hard on getting these to me in time to add to the swag bags since we had just connected earlier that week on being a sponsor. These beanies will be perfect for hospital photos as well! Photo credit goes to my assistant, Natasha Clark Photography!
Also included in the swag bags were Gift Certificates to Maggie Mae's Cafe, a homemade sugar scrub made by Jennifer Norton of Semonin Realtors, a hand etched wine glass by Specially Yours, a dozen fingerprint cookies in rainbow colors from Sweet Stuff Bakery, and discount codes to Basic Invite and Made by Mary. They also received a $100 discount for a newborn session and 20% off of a custom album, if they chose to use me as their newborn photographer! As if that wasn't enough, they also are getting a FREE 20″ x 30″ x 1.5″ thick canvas of their favorite images from the day's shoot from Canvas HQ!
After all of the swag bags were opened, we drew for the Deluxe Safari DockATot dock that was donated by DockATot. The lucky winner was Leslie Savko! She's the lady in mint green in the images above! We then drew for the FREE Newborn Session with my studio, Jennifer Rittenberry Photography! Sheena Ford won this grand prize and will be having her session with me in late June; she's the lady in the indigo dress in the images above.
Fun Fact about these Rainbow Mommies:
While we were getting hair and makeup done for the 6 ladies that arrived early, they were chatting about what everyone was going to have. All 6 of them were having boys! They even went as far as thinking I may have planned that out, but in reality I didn't know what they were having until they had already been selected for the Rainbow Baby Maternity Event. As chance would have it, the last lady to arrive was having a girl and ruined their theory. It would have been pretty ironic though if they all had been due with boys. This could've made for an extra setup in the day's events. lol!
Below are the edited group shots of all of these beautiful mommies. Tomorrow I'll be starting a 2 week series where I'll be sharing each mother's story. I want to take time to individually highlight each mother and share her unique experience. Even though they all share the same struggles, I really feel that each story is different and deserves to be heard. My goal for this event was to make these women to not only feel pampered and beautiful, but to know that it's ok to talk about their losses. I know that the more we shine a light on this sensitive subject, the more awareness we will bring to our community. In turn, they'll know how to respond when hearing about infant loss through one of their loved ones in the future.
I just want to give another heartfelt thanks to all of the many vendors that donated their time and merchandise to make this Rainbow Baby Maternity Event extra special for these mommies. I could not have done this without you! I would love nothing more than for this concept to catch on in other cities and states with photographers to bless rainbow mommas. Not only does it create a sense of community, but it gives back with you sharing your talents with your fellow community members. So if you take me up on my challenge, please hashtag #RainbowBabyMaternityEvent so I can follow your adventures, too!
More about the photographer:
Jennifer Rittenberry Photography has been photographing clients throughout the greater Louisville area since 2010. She is a published artist in Beauty & Lifestyle Mommy Magazine and Newborn Photographer Magazine as well as named 2016 Parent's Choice Award winner for her portraiture. In 2013, she focused her client base to Newborn and Maternity as she created a niche for herself after mentoring with three of the nation's leading photographers in these industries. She has spent countless hours on continuing her education and sharpening her skills each year with the sole purpose of creating beautiful artwork for her clients to share with their families and preserve as precious heirlooms for generations to come. Located in Central Kentucky, her residential studio is in the heart of Mount Washington; only minutes outside of Louisville. Jennifer Rittenberry Photography session fees can be found on the website but detailed pricing and availability may be requested by email using the contact form.
You are welcome to connect with Jennifer Rittenberry Photography by following my work on Facebook, Twitter and Instagram. SIGN UP FOR OUR NEWSLETTER so you can be the first to know about any upcoming portrait specials, mini session events, and other news!
Located at 268 Deer Park Way, Mount Washington, KY 40047. Get in touch at (502) 523-2180!