In mid May 2017 I had the opportunity to work with Angie Knutson Photography during a 1:1 mentoring workshop held at my new studio. Angie has been an inspiration to me for quite some time and her work is simply beautiful. I saw that she was coming to Kentucky for another newborn workshop, so I messaged her right away to see if she'd be interested in stopping by my studio a few days before her workshop on the other side of the state. I figured who better to learn from? Plus I'd get to sharpen my newborn posing skills and have a chance to meet one of my photographer crushes. I'm totally on board with that! She got back to me quickly and said it was easy to add me to her schedule since she was driving to KY from MN anyhow. My excitement couldn't be contained!! I know you girls out there know what I mean if you follow her work at all.
I've worked with infant babies for several years now and feel comfortable and confident with posing, but it's always fun to learn new ways of doing things and adding a few new tricks to my repertoire. The minute you think you can't learn something new or that there's nothing out there that you need help with, then your work becomes stale and you can come off as arrogant. I'm far from that way of thinking. I believe you should continue your education and expand on your talents as much as possible. It's also an excuse to meet some great mentors! I've trained with Rachel Vanoven (2014), Amy McDaniel (2015) and Sarah-Beth (2016) in previous years, with still many more wonderful artists out there that I'd love to work with someday.
I get asked the same question all the time. Who is the best person to mentor with and why? My answer is simple; save your money and spring for a one on one (or a 1:2) workshop with the mentor's work that speaks to you the most. I chose the mentors that I've worked with in previous years for various reasons, but at the end of the day it was due to loving their work and wanting to be able to recreate the techniques they used. Rachel was the first newborn photographer that I started following in 2013 and have always been drawn to her work. She has beautiful warm images and flawless posing. Then I started seeing Dewdrops Photography by Amy McDaniel starting to show up in my newsfeed when Facebook added the function of seeing what your friends were liking. I instantly fell in love with her lighting. Although I loved Rachel's lighting, she had a natural light studio and I only have the light available to use strobes, which is what Amy works with. Amy's lighting is perfection and I even learned several new tricks to tweak the poses I already knew how to do. It's a beautiful marriage of tips and tricks that you begin to be able to incorporate into your posing flow once you've had the opportunity to see how different mentors do things. It's sort of like being at a round table of "The Best of the Best" in the industry and having everyone tell you how they do their poses, and you get to take the top pick of best tips and tricks away from the experience to better yourself and your abilities. Which is why I have no shame in continuing my education each year! In 2016, a last minute seat opened up for an outdoor family workshop with Sarah-Beth, and I had to jump on the minute I found out about it. Everything about her work draws you in. The light. The connection. The emotions. It's all there and every image takes my breath away. Her way of getting families to connect with each other and the way she poses in an "unposed" manner just makes for some of the most heartfelt images I've ever seen.
During the workshop with Angie, our main focus was on lighting and maximizing poses in a newborn session to fill a gallery a little quicker. As we all know, being efficient is key when working with newborns in a hot studio and you're sweating your butt off. lol. We started with a different posing flow than what I have been accustomed to, but it includes some genius posing tricks to save time and I'm all for that. It seems like everyone has their own favorite posing flow that works for them, but the way she showed me seemed like a no-brainer to switch to for the future. In a nutshell, her flow is a complete 180 from what I have always been taught previously; most mentors start on the beanbag with naked poses. Angie had me start with wrapped poses and works backwards in the flow to the beanbag. We also focused on different lighting techniques since Angie's work is typically a lot more moodier and shadowy than mine. I love the look, but I'm not sure I am able to come completely to the "dark side" just yet. I still love my light and bright images as well, so I'll be mixing in this newer technique in with my old ones.
Here are a few images from the 2 models we worked with. You should be able to notice some of the shadows that were incorporated into the lighting that we used during the one-on-one workshop. It requires a different light modifier than the one I own, so my version will not be as contrast-y as these in the future, but I'll show an example in a minute of some post-workshop images with my take on the lighting.
Workshop Models: Posed by Angie Knutson Photography and shot by Myself.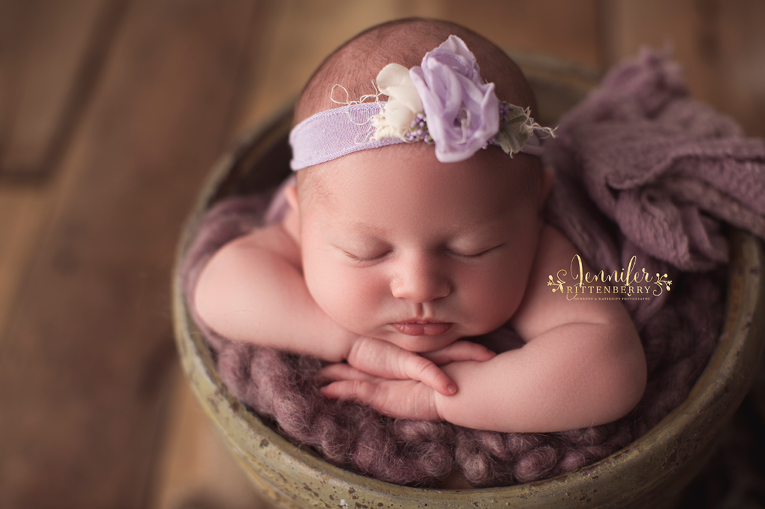 Headband: Dear Felicity
I really feel like Angie did a great job of explaining the wrapping techniques and transitions from each pose to the next, which is greatly beneficial in creating a beautiful and cohesive gallery in a shorter amount of time. Let's face it. Some babies are just plain hard and these gorgeous wrap jobs will do the trick when coaxing them to sleep. lol. She was very patient and attentive to my shooting, which made it easy to make quick adjustments if I wasn't in the perfect spot to get "the shot." A few of these prop poses are a little more difficult to get in position to shoot at the right angle than what I thought prior to the workshop.
I'm happy with the results of the first couple of babies that have come into the studio after the workshop. Here are a few images post-workshop.

Just for a quick little comparison, here are few images pre and post workshop side by side:
If you're looking for a professional newborn photographer to mentor with, I highly recommend a Newborn Posing Workshop with Angie Knutson. She was amazing and worth every penny. I love that she offers an online facebook community for continued education after the workshop is over, too. There are a lot of extremely talented photographers in the group and I love seeing all of the creativity that pours out of the women in there. Not to mention, we get to be the guinea pigs for all of her new actions and presets that get released in the future as well. Check her out and tell her I sent ya! 🙂
More about the photographer:
Jennifer Rittenberry Photography is an award winning photographer based out of Mount Washington Kentucky. She has been photographing clients throughout the greater Louisville area since 2010 and recently acquired a brick and mortar studio space in the heart of downtown Mount Washington. Jennifer is passionate about her work and strives to achieve the highest level of excellence in her work, which has earned her a Click PRO status with Clickin Moms Magazine and elite membership with NAPCP. She is also a published artist in Beauty & Lifestyle Mommy Magazine and Newborn Photographer Magazine, as well as named 2016 Parent's Choice Award winner for her fine art portraiture. In 2013, she focused her client base to Newborn and Maternity as she created a niche for herself after mentoring with four of the nation's leading photographers in these industries. She has spent countless hours on continuing her education and sharpening her skills each year with the sole purpose of creating beautiful artwork for her clients to share with their families and preserve as precious heirlooms for generations to come. Located in Central Kentucky, her new studio is only 6 minutes from the Gene Snyder Freeway off the Bardstown exit, and only 3 minutes outside of Louisville. Jennifer Rittenberry Photography session fees can be found on the website but detailed pricing and availability may be requested by email using the contact form.
You are welcome to connect with Jennifer Rittenberry Photography by following my work on Facebook, Twitter and Instagram. SIGN UP FOR OUR NEWSLETTER so you can be the first to know about any upcoming portrait specials, mini session events, and other news!
We have MOVED! As of May 1, 2017 we are now located at 1200 North Bardstown Road – Suite 1-A, Mount Washington, KY 40047. Get in touch at (502) 523-2180!